Hotel Capellán de Getsemaní
Hotel Capellan is a gateway in the heart of Getsemani, Cartagena's most colorful neighborhood. Every detail welcomes you to enjoy and relax in a stylish setting.
The Hotel Capellan de Getsemani, located just steps from the Walled City, the Historical Center, the Clock Tower, the Pegasus Pier, and the Convention Center, is your ideal hotel in Cartagena.
The hotel's Spanish colonial style and French interior design and amenities make it ideal for exploring Colombia's vast cultural and gastronomic wealth in a beautiful, safe, and comfortable setting with the first-class service.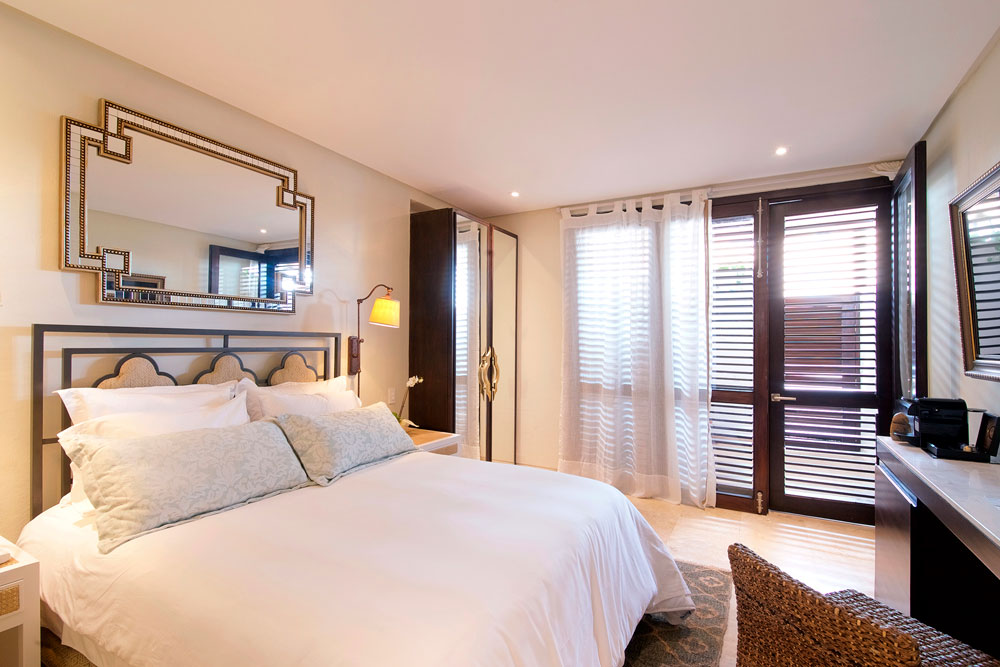 Magical Corners
A true oasis where magic and luxury join in each space to make you live an unforgettable experience.

Celebrations
Our event rooms are the appropriate backdrop for any occasion, from an intimate setting for unforgettable gatherings, an amazing terrace with panoramic views, to a large hall in a stately home across the street.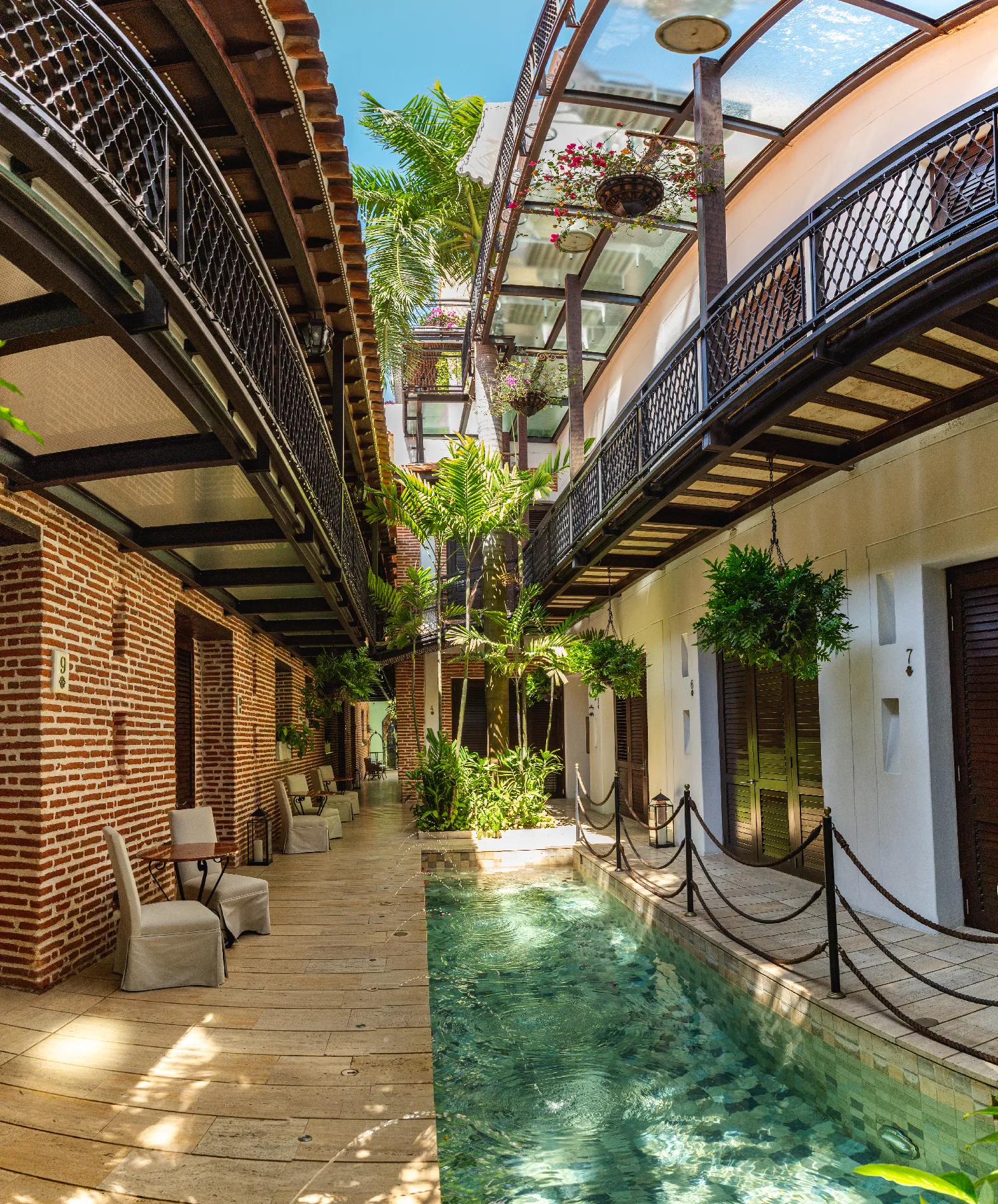 Among the hotels in Getsemani, Capellan is at the heart of Cartagena's pulse, steps from the Wall, Downtown, and in the heart of Getsemani's colorful streets.
Enjoy constant creativity, re-discovering the traditional flavors of the Colombian Caribbean.
Among the restaurants in Cartagena, the irreverent and fun proposal of Clero, the restaurant of the Capellan hotel, stands out. The chef has integrated classic ingredients of Cartagena food such as fish and seafood, rice, coconut, banana, coastal whey, plantains and various fresh vegetables in a menu that also serves exquisite dashi in multiple preparations.
Lunch and Dinner: 12 – 22:30 h
Exceptional staff & service
From the time we arrived to the time we left we had a fantastic time. The suite we had was spacious and very clean. The food was delicious, as well as the drinks at the bar. The pool and jacuzzi settings were beautiful on the rooftop. The hotel itself was within walking distance of everything. My partner and I felt safe. The messages given felt like everything relaxed. Room Service was there day and night to ensure the room was cleaned and refilled with anything we were low on. Not to mention the outstanding service of every employee at this hotel was terrific, specially Suany. They made us feel comfortable as if this was our second home. I highly recommend this hotel. Anytime I visit Colombia, this will always be my go-to hotel.
My favorite hotel in Cartagena
This Hotel is fantastic! It is my favorite hotel in a city that has many great hotels. The location is perfect - it's in super cool Getsamani, just outside the walled city and literally around some of the most amazing street art in the world. The staff is amicable and helpful. My suite was huge and incredibly comfortable. I can't wait to go back!
5 Star Luxury Experience
I want to thank Suany and Jorge for being wonderful hosts during my 5-night stay at Hotel Capellan during April. From the welcome drink, the luxury decor, impressive jet tub suite, and attentive staff, this is where you want to stay when you visit Cartagena. I recommend it to all of my friends and family. Everyone was so lovely, and the complimentary breakfast was so great. It's so lovely to wake up and have it in the room or the lobby. I also got a pedicure while I was there, and it was very relaxing.
Amazing
Nothing negative about this hotel whatsoever. The staff was great. The hotel was clean. Housekeeping was perfect. It surpassed my expectations. The location was also excellent. No complaints.
Family trip
Estados Unidos
Great Experience
Great place to stay, beautiful spot and kind staff, clean and big rooms. My favorite hotel in Cartagena! The view from the terrace is spectacular! Breakfast was on point, and the menu was delicious. Great for couples who enjoy an excellent private time.
One of the best hotels I've ever stayed at
If you're looking for a place to stay in Cartagena- look no further. I've stayed at hotels and Air BnB's worldwide, and this place is top 3. The service, the ambiance, the cleanliness, the attention to detail, the safety, and the location are top-notch. The breakfast included was a nice touch, especially during Covid times, some cafes were closed, so this was helpful to start our day. 10/10 recommend and plan to return.
The Staff cannot get any better!
My friend and I came to Cartagena for a two-week vacation from the US. We ended up extending our vacation for an additional week. A big part of wanting to stay longer was the Hotel Capellan. This place is fantastic. It feels like a Sanctuary. Very calming, clean, esthetically appealing. The Staff is the best I've ever encountered throughout all of my travels. Very warm. Helpful with every situation. Big shout out to Suany for helping me navigate through everything. The most helpful person. Also, Pilar and Julio were great.
Great hotel in Cartagena
Beautiful hotel, friendly staff, hotel within walking distance, beautiful pool
We are located in Getsemaní, amid the charm that runs through the streets and walls of the historic city of Cartagena de Indias.
INFORMACIÓN IMPORTANTE SOBRE EL IVA
Estimado Cliente,
En atención a las ultimas normativas tributarias dispuestas por nuestro Gobierno y con el fin de mantenerlos enterados sobre las mismas, nos permitimos comunicar lo siguiente:
Nueva Vigencia del IVA (19%) Sobre servicios Turísticos y Hoteleros:
Cualquier reserva, cotización u oferta que se haya realizado, que incluya servicios que serán facturados después del 01 de enero de 2023 (inclusive), deberá ser pagada más el valor del IVA aplicable, el cual hasta la fecha corresponde al 19%.
El valor real de la factura de cada servicio se determinará al final de la prestación de los mismos. Los pagos recibidos con antelación a la prestación y finalización del servicio corresponde a anticipos o depósitos que no acarrean facturación, por lo que no incluyen liquidación de los impuestos correspondientes.
Exención Aplicable a No Residentes en Colombia
Para la aplicación de la exención de acuerdo al decreto 297 de 2016, se consideran residentes en el exterior a los extranjeros y a los nacionales que ingresen al territorio nacional sin el ánimo de establecerse en Colombia y que acrediten tal condición con los documentos señalados en este parágrafo. 
El extranjero residente en el exterior deberá acreditar su condición mediante la presentación del pasaporte original; la tarjeta Andina o la tarjeta de Mercosur comprobando su estatus migratorio con el sello vigente de Permiso de Ingreso y Permanencia PIP-3, o PIP-5, o PIP-6, o PIP-10; o la Visa Temporal vigente TP-7, o TP-11, o TP-12; según sea el fin que asiste al residente en el exterior para ingresar al país sin el ánimo de establecerse en este, de acuerdo con lo señalado el Decreto 1067 de 2015, modificado por el Decreto 1743 de 2015, y en la Resolución 5512 de 2015 del Ministerio de Relaciones Exteriores, y demás normas que los modifiquen, adicionen o sustituyan, y siempre y cuando se trate de la adquisición de servicios turísticos vendidos bajo la modalidad de planes o paquetes turísticos por las agencias operadoras y hoteles inscritos en el registro nacional de turismo, incluidos los vendidos por hoteles inscritos a las agencias operadoras. 
  El nacional acreditará su condición de residente en el exterior, mediante la presentación de la documentación expedida por las autoridades del país de residencia. 
According to Resolution 2052 of the Ministry of Health and Ministry of Transportation, it is mandatory to enter the country to have the vaccination scheme against covid 19.
Only as an exception, they will be able to enter with the vaccination scheme started, with a negative Covid PCR test taken maximum 72 hours before traveling.
Colombians can enter without a vaccination certificate with a negative PCR test.
This measure is only for people over 18 years of age.
Additionally, the requirement of the pre-registration of migration Colombia will remain in force on the page
https://apps.migracioncolombia.gov.co/pre-registro/public/preregistro.jsf